Day:
April 6, 2019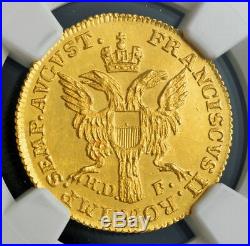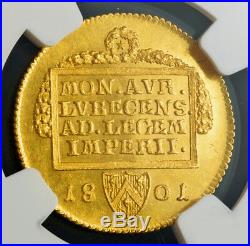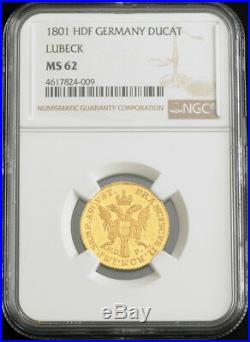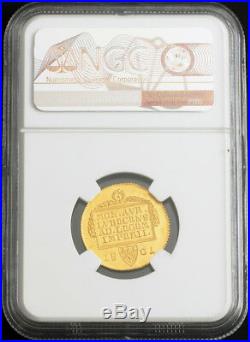 1801, German States, Lubeck (Free City). Mint Year: 1801 Mint Place: Lubeck Denomination: Ducat Reference: Friedberg 1500, Jaeger 49, KM-205. Mint Official: Hermann David Friderichsen H. Certified and graded by NGC as MS-62! 986 Diameter: 21mm Weight: 3.5gm. Obverse: Imperial crown above double-headed eagle with shield of Lubeck at chest. Titles of Emperor Francis II around. Reverse: Garlanded table with a 4-lines inscription above date (1801), which is split by a shield with the coat-of-arms of the Mayor. Lübeck is the second largest city in Schleswig-Holstein, in northern Germany, and one of the major ports of Germany. It was for several centuries the "capital" of the Hanseatic League. Queen of the Hanse. And because of its Brick Gothic architectural heritage is on UNESCO's list of World Heritage Sites. In 1226 Emperor Frederick II declared the city of Lübeck to be an Imperial Free City. In the 14th century Lübeck became the "Queen of the Hanseatic League", being by far the largest and most powerful member of this medieval trade organization. Several conflicts about trade privileges were fought by Lübeck and the Hanseatic League against Denmark with varying outcomes. While Lübeck and the Hanseatic League prevailed in conflicts in 1435 and 1512, Lübeck lost when it became involved in the Count's Feud, a civil war that raged in Denmark from 1534 to 1536. Lübeck also joined the Schmalkaldic League. After defeat in Count's Feud, Lübeck's power slowly declined. Lübeck managed to remain neutral in the Thirty Years' War, but with the devastation of the decades-long war and the new transatlantic orientation of European trade, the Hanseatic League and thus Lübeck lost importance. After the Hanseatic League was de facto disbanded in 1669, Lübeck stayed an important trading town on the Baltic Sea. Lübeck remained a Free Imperial City even after the German Mediatisation in 1803 and became a sovereign state after the end of the Holy Roman Empire in 1806. In course of the war of the Fourth Coalition against Napoleon, troops under Bernadotte occupied the neutral Lübeck after a battle against Blücher on November 6th, 1806. Under the Continental System, trade suffered and from 1811 to 1813 Lübeck was formally annexed as part of the First French Empire. The Vienna Congress of 1815 made Lübeck one of 39 sovereign states of the German Confederation. Lübeck became part of the North German Confederation in 1867 and became an autonomous state of the new-founded German Empire in 1871. The item "1801, German States, Lubeck (Free City). Gold Ducat Coin. Very Rare! NGC MS-62″ is in sale since Monday, October 8, 2018. This item is in the category "Coins & Paper Money\Coins\ World\Gold". The seller is "coinworldtv" and is located in Europe. This item can be shipped worldwide.
Certification Number: 4617824-009
Certification: NGC
Grade: MS62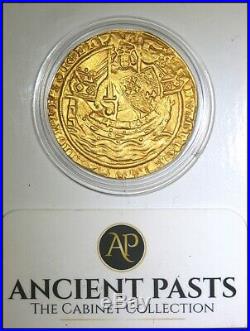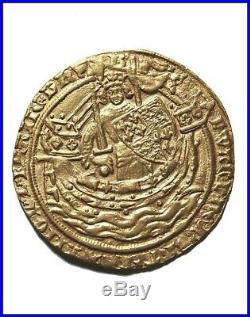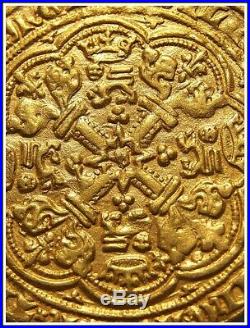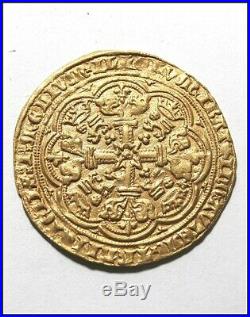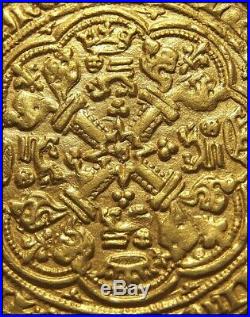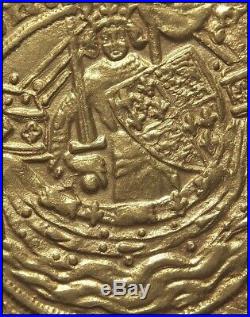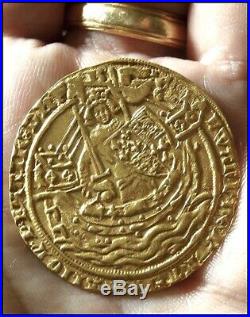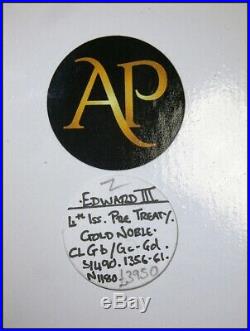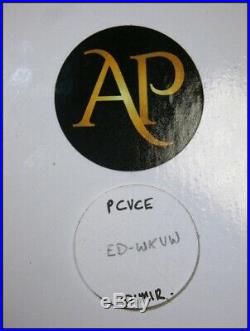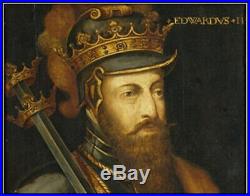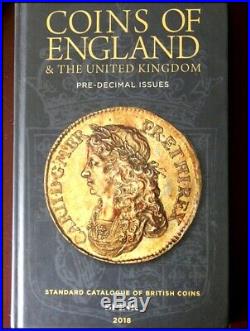 Add To Saved Sellers. Medieval Gold Noble Coin Edward III 1356-61 – 4th Issue Pre-Treaty 7.71 Gram. Circa: AD 1356 1361. Ancientpasts are proud to be involved with numanistics for general collection: We have over twenty years of coin collection experience and hold an enviable Roman and Iron Age North-Thames collection: All coins offered in this new area of collection aim to be presented at least Very Fine condition if not higher. The first coin in the current collection is the envy of any Medieval British collection and is a Solid Gold King Edward III Noble in VF + condition. The noble was the first English gold coin produced in quantity, having been preceded by the gold penny and the florin earlier in the reigns of King Henry III and King Edward III, which saw little circulation. The derivatives of the noble, the half-noble and quarter noble, on the other hand, were produced in quantity and were very popular. The value of the coin was six shillings and eight pence (written 6/8), which was equivalent to eighty old pence or one-third of a new pound sterling. The weight was changed from issue to issue to maintain this value until 1464 when the value was increased. Throughout the history of this denomination, there are many varieties of inscriptions, mintmarks, and to some extent, design. Typically, the Pre-Treaty legend (obverse): EDWARD DEI GRA REX ANGL Z FRANC D HYB(E) (Edward, by the grace of God King of England and France, Lord of Ireland). Reverse legend: IHC AUTEM TRANSIENS PER MEDIUM ILLORUM IBAT (But Jesus passing through their midst went His way). Pre-Treaty Gold Noble Cl-Gb / Gc-Gd, 1356-61AD, Diametre. Acquired from Mike R. Vosper Coins, England in 2017: Originally said to have been recovered in France in the early 1900's. The item "Medieval Gold Noble Coin Edward III 1356-61 4th Issue Pre-Treaty 7.71 Gram" is in sale since Wednesday, February 20, 2019. This item is in the category "Coins\Coins\British\Hammered (Pre-c.1662)\Later Medieval (1154-1485)". The seller is "ancientpasts" and is located in Peterborough. This item can be shipped worldwide.
Period: Late Medieval, 1154 – 1485
Colour: Gold
Metal: Gold
Country/Region of Manufacture: United Kingdom
Material: Gold