au-55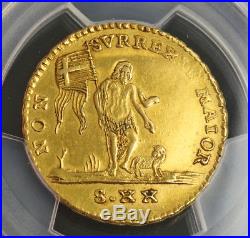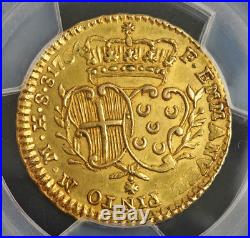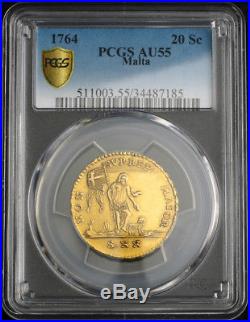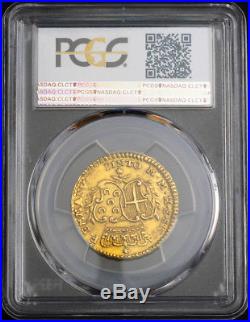 1764, Knights of Malta, Emmanuel Pinto. Scarce Gold 20 Tari Coin. Mint year: 1764 Denomination: Gold 20 Scudi References: Friedberg 35, RS 25, KM-275. Certified and graded by PCGS as AU-55! 840 Diameter: 28mm Weight: 16gm. Obverse: Saint John the Baptist standing facing, holding banner in right hand and pointing to lamb at feet with left. XX = 20 Scudi below. Non greater has arisen! X Reverse: Crowned quartered coat-of-arms of the Grand master within foliage. Dom Frei Manuel Pinto da Fonseca (1681 23 January 1773) was a Knight of the Langue of Portugal. He was the 68th Grand Master of the Order of the Holy Religion of the Knights of St John of Jerusalem, of Palestine, of Rhodes, and called Malta, from 1741 to 1773. He was a Portuguese Nobleman, the son of Miguel Álvaro Pinto da Fonseca. De Ranhados, and wife Ana Pinto Teixeira. He was elected on 18 January 1741. On 25 May 1743 he gave his name to the then town of Qormi giving it the status of a city. In 1749, one of his bodyguards, Cassar, refused to join a plot led by Pasha Mustafa to stage a Muslim slave revolt. This refusal led to the exposure and suppression of the revolt. This event was then celebrated on every anniversary, 29 June. He expelled the Jesuits from Malta. He completed the Auberge de Castille, one of the most important buildings in the capital city, Valletta, which had been started in 1574 and his bust and arms adorn its façade. Today this building houses the Office of the Prime Minister. He made substantial donations to the Conventual Church, and of the most notable mementos worth mentioning are two large and heavy bells cast by the Master Founder of the Order of St. John, Aloisio Bouchut in 1747 and 48 respectively which still hang in the belfries of the Co-Cathedral. Pinto built several storehouses on the Marina which still bear his name. When he died his body was laid to rest in a monument with a mosaic portrayal of him. This is a major tourist attraction in Malta. He was a friend of Cagliostro. His coat of arms portrays five red crescents simbolizing that he once defeated five Ottoman Turks single-handedly. The city of Qormi adopted this as its own coat of arms and flag. Actually, those are the Arms of the. Family with the enamels exchanged. He had an illegitimate son by one Rosenda Paulichi, daughter of Alberigo Paulichi and wife Patronilla Ramuzetta, named José António Pinto da Fonseca e Vilhena, who married his first cousin Maria Inácia Pinto da Fonseca de Sousa Teixeira e Vilhena, illegitimate daughter of Francisco Vaz Pinto (his father's brother) by one Clara Cerqueira. The item "1764, Knights of Malta, Emmanuel Pinto. Scarce Gold 20 Tari Coin. PCGS AU-55″ is in sale since Saturday, November 25, 2017. This item is in the category "Coins & Paper Money\Coins\ World\Gold". The seller is "coinworldtv" and is located in Europe. This item can be shipped worldwide.
Certification: PCGS
Certification Number: 34487185
Grade: AU55
Composition: Gold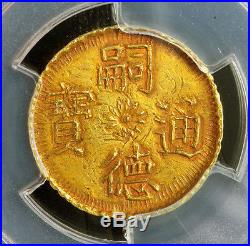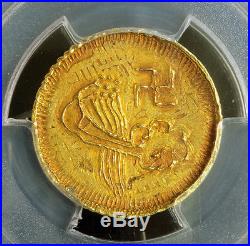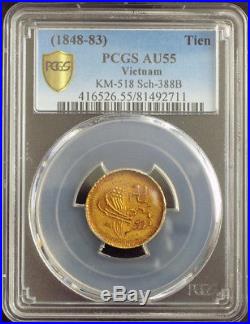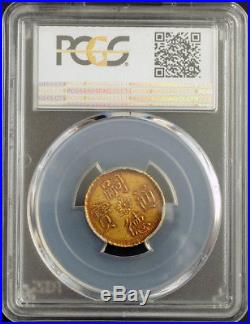 1883, Vietnam (Annam), Emperor Tu Duc. Unique Gold 1 Tien Coin. Certified and graded by PCGS as AU-55 only this single specimen certified! Obverse: Sceptre an swastika. Traces of overstriking (four characters around sun) of the reverse underneath! Reverse: Four characters around sun with blunts. Tu – Duc – Thong – Bao. For your consideration an exceedingly rare certified gold coin, struck during the reign of Emperor Tu Duc, who was reigning from 1848 ot 1883. The offered specimen appears uniquely double-struck, with a high rim, but is still a problem-free coin and extremely rare for this period and type of coins. A very rare and important addition, being one of the toughest to find gold coin types of asia! A Chinese general set up the Kingdom of Nam-Viet on the Red River. This kingdom was overthrown by the Chinese under the Han Dynasty in 111 B. Whereupon the country became a Chinese province under the name of Giao-Chi, which was later changed to Annam which means peaceful or pacified south. Chinese rule was maintained until 968, when the Vietnamese became independent until 1407 when China again invaded Viet Nam. The Chinese were driven out in 1428 and the country became independent and named Dai-Viet. After the French conquered Dai Nam, they split the country into three parts: The South became the Colony of Cochinchina, the North became the Protectorate of Tonkin and the central became the Protectorate of Annam. The emperors were permitted to produce small quantities of coins, presentation pieces, and bullion bars. The smaller gold pieces saw a limited circulation, mainly among the local merchants and foreign traders. Emperor T c (22 September 1829 17 July 1883) (full name: Nguyn Phúc Hng Nhm , also Nguyn Phúc Thì) was the fourth emperor of the Nguyn Dynasty of Vietnam and reigned from 18471883. The son of Emperor Thiu Tr, Prince Nguyn Phúc Hng Nhm was born on 22 September 1829, and succeeded his father on the throne, with the reigning title of T c , but family troubles caused his era to have a violent start. Thiu Tr had passed over his more moderate eldest son, Hng Bo, to give the throne to T c, known for his staunch Confucianism and opposition to foreigners and innovation. As a result, and due to the repressive policies of the previous Nguyn Dynasty emperor, there was now a great deal of dissatisfaction with Nguyn rule and a legitimate royal figure to rally this opposition. Prince Nguyn Phúc Hng Bo became the leader of a rebellion against T c, consisting of Confucian scholars who were angered that the family hierarchy had been dishonored (by passing over the eldest son) some remaining supporters of the Lê Dynasty (who many still considered the legitimate dynasty of Vietnam) as well as the usual peasants angry over Nguyn taxation and the usual corrupt mandarins as well as the Roman Catholic missionaries and Christian converts who had been so persecuted by Minh Mng and Thiu Tr. With swift military force, T c suppressed the rebellion and was set to execute his brother, but was dissuaded by his mother, Dowager queen T D, and Hng Bo killed himself in prison. Emperor T c continued the policies of his predecessors, shutting Vietnam off from the outside world and refusing all efforts to modernize the country. Accounts of his personal life show a gentle and educated man, but his policies brought on conflict with Europe that Vietnam could not win. He oppressed all foreigners in Vietnam, especially the Christian community, who had frequently tried to overthrow his ancestors, such as in the Lê Vn Khôi revolt, calling their religion a "perverse doctrine". The Christian mandarin Nguyn Trng T tried to convince T c that this was a suicidal policy, but he did not listen, confident that France was too involved with the chaos in Europe in 1848 to respond, but he was mistaken. France responded with a large military expeditionary force and attacked up from southern Vietnam. The Nguyn army fought bravely for some time, but their antiquated weapons and tactics were no match for the French, who suffered more from the climate and disease than from enemy resistance. With French forces moving closer against him, T c called upon his Manchu over-lord, the Qing Emperor, for help and so ensued the Sino-French War. The fighting around Hanoi against China and the Black Flag pirates ended with France victorious and China gave up their position as feudal master of Vietnam and recognized France as the ruling power over the region. To make matters worse, Emperor T c had to deal with renewed internal rebellions which had become commonplace for the Nguyn Dynasty. There were literally hundreds of small rebellions and uprisings against Nguyn rule. Ineffective attempts to enforce the ban on Christian missionaries were also the biggest source of trouble, including the execution of a Spanish bishop which was used to justify the French and Spanish invasion that led to the fall of Saigon. By an order of 1848 T c commanded all Vietnamese Catholic converts to renounce their religion, otherwise they would be branded on the face with the mark of a heretic and surrender all of their rights and privileges. This rallied most of the European powers against Vietnam, and T c by doing this had given up any hope of Vietnam gaining help as a victim from the outside world. When further rebellions broke out as the French were advancing on the capital, T c feared that his authority was crumbling. He preferred to make a deal with the French so that he could crush the rebellion since while France may demand humiliating concessions, the rebels would most likely depose and/or kill him. He signed away the southernmost of Vietnam, Cochinchina, to be a French colony and accepted the status of a French protectorate for his country. This caused a huge uproar, and many, such as the famous mandarin Trng nh, refused to recognize the treaty and fought on in defense of their country, denouncing T c for surrendering any part of their homeland. Emperor T c did not live to see the worst effects of colonialism on his country, but he is often regarded as the last Emperor of Vietnam, since he was the last to rule independently. A case of smallpox left him impotent so he had no children despite a huge harem of wives he kept in his palace. According to legend, he died in 1883, cursing the French with his dying breath. After his death his adopted son Dc c was deposed by court officials after a reign of three days. The item "1883, Vietnam (Annam), Emperor Tu Duc. Unique Gold 1 Tien Coin. PCGS AU-55″ is in sale since Thursday, March 23, 2017. This item is in the category "Coins & Paper Money\Coins\ World\Gold". The seller is "coinworldtv" and is located in Europe. This item can be shipped worldwide.
Certification: PCGS
Certification Number: 81492711
Grade: AU55
Composition: Gold