france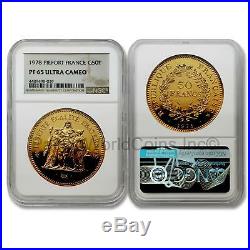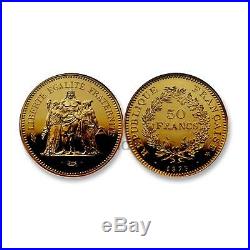 Highest Grade 70 Coins. World Gold & Platinum Coins. World Raw Gold Coins. France 1978 PieFort KM-P620 50 Francs Gold Coin NGC PF65 ULTRA CAMEO. Obverse: DENMINATION WITHIN WREATH. Weight: 3.017 oz AGW. Face Value: 50 Francs. Grade: NGC PF65 ULTRA CAMEO. Use of Store Images We often have multiple quantities available of many of our most popular products. As a result we often use "Stock Images" to represent the actual product. When a "Stock Image" is used to merchandise a product, that use will be disclosed as follows. The "Stock Images" used in this Description are an indicator of the quality of the item you will receive. The actual item you will receive is guaranteed to be as described and depicted. Errors and Omissions Prices and availability of products and services are subject to change without notice. Errors will be corrected where discovered, and PWC reserves the right to revoke any stated offer and to correct any errors, inaccuracies or omissions including after an order has been submitted and whether or not the order has been confirmed. All orders subject to acceptance. Using digital video, we record the packing of our products to affirm accuracy. We may ask you to file a police report if it appears loss is due to theft or tampering. Your assistance speeds up the investigation and the sooner we complete it, the sooner we can resolve the missing order. If you need to change the Address you should cancel your order and place a new order using the correct address. If you do not receive the package directly from the common carrier, you agree to take all reasonable actions to assist in recovery of the package, including but not limited to filling out reports (and/or police reports) and providing all information needed or that may be requested to assist in recovery of the package. If we determine the package is lost or damaged, we file a claim. Failure to fully cooperate will jeopardize coverage that may be provided to you. We don't accept return. Our main consigner, Martin Weiss, is a pioneer in the marketing of modern issue Chinese coins. Martin Weiss has been a leader in the numismatics hobby for over 40 years. He is perhaps best known as the individual who helped to make the coins of China among the most collected coins around the world. Weiss tells: In 1983, there was virtually no market for modern Chinese coins in the United States or anywhere else. And for good reasons. The Peoples Republic of China had only issued small denomination coins for circulation before 1979. No commemoratives no silver no gold. Weisss public relations campaign got the news of the new Panda coin (and his companys namePandaAmerica) in newspapers throughout the country, and orders poured in. When the first catalogue of China Panda Gold and Silver Coins was published in China, Martin Weiss was the only American dealerto be featured. In addition to creating a worldwide market for Chinas Panda coins, Martin Weiss developed a series of Inventions and Discoveries coins with China, that was a PandaAmerica exclusive. Weiss also developed a series of gold and silver Lunar-Zodiac commemoratives for the country of Singapore and coins commemorating the 500. Anniversary of Columbus landfall in the New World for the Bahamas, all of which were successfully distributed exclusively by his company, PandaAmerica. Weiss contracted to distribute coins for the Perth Mint (Australia), the British Royal Mint, Israel Coins and Medals Corporation, Banco de Mexico, Monnaie de Paris, and others including the Olympic Coin Program of the United States Treasury. Martin Weiss was the recipient of Professional Numismatic GuildZ39;s Sol Kaplan Award in 2002 for helping to cleanse our profession of thievery and for upholding the ethics that the PNG stands for. Weisss imagination, get-it-done attitude, professional standing, and worldwide connections assure the success of his future ventures. In addition to his membership in PNG, Mr. Weiss is a Life Member of the American Numismatic Association, and he abides by the Codes of Ethics of both organizations. Martin Weiss now devotes his efforts full time to making the websites pacificworldcoins, bidbuycoins or coinsmakeoffer world-class and easy to use. The item "France 1978 PieFort KM-P620 50 Francs Gold Coin NGC PF65 UC SKU#7099″ is in sale since Wednesday, January 16, 2019. This item is in the category "Coins & Paper Money\Bullion\Gold\Coins". The seller is "pacificworldcoins_inc" and is located in Rancho Mirage, California. This item can be shipped to United States.
Shape: Coin
Certification: NGC
Precious Metal Content per Unit: 3.01 oz
Strike Type: Proof
Grade: PR 65
Year: 1978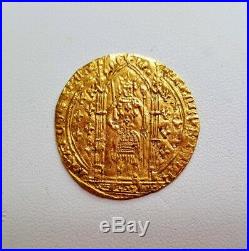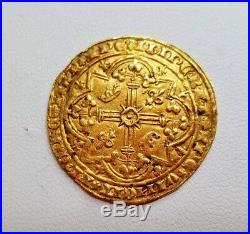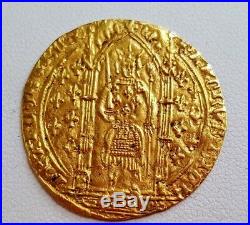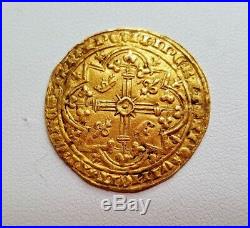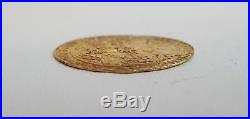 FRANCE MEDIEVAL RARE GOLD FRENCH COIN OF THE MIDDLE AGES. JUST OUT OF A SAFE DEPOSIT BOX FROM AN ESTATE BEING LIQUIDATED. A KIND EBAYER TOLD US. FOUND IN AN OLD ENVELOPE WRITTEN. FRENCH MEDIEVAL GOLD COIN, ORIGINAL. ABOUT 1 1/8 WIDE. THE WEIGHT IS 3.76 GRAMS. THAT'S ALL WE KNOW. We do not know those charges throughout the world. Feedback: We are happy to leave feedback for our customers. We would appreciate that once you receive your item, you also leave us feedback. If you feel that you cannot leave a Positive comment with all 5 stars – I WILL EARN IT. Please do not hesitate to contact me for any reason. The item "FRANCE MEDIEVAL RARE GOLD FRENCH COIN OF THE MIDDLE AGES 1364-1380 CHARLES V" is in sale since Wednesday, June 20, 2018. This item is in the category "Coins & Paper Money\Coins\ World\Gold". The seller is "antiqer41″ and is located in Clinton, New York. This item can be shipped worldwide.
Certification: Uncertified
Composition: Gold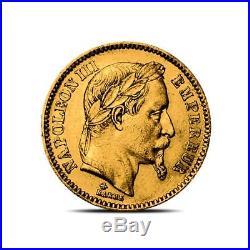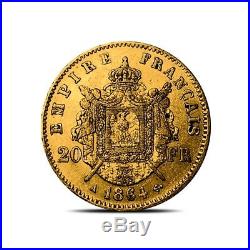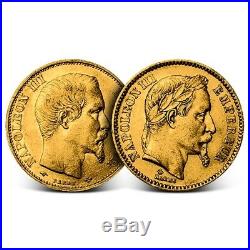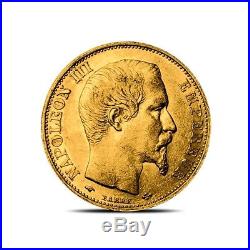 France 20 Francs Napoleon III Gold Coin – Random Date – Average Circulated. Obverse There are two versions of the Napoleon III 20 Franc: the Bare Head and the Laureate Head. Both display a portrait of Napoleon III, but the latter shows the emperor wearing a wreath. The inscriptions &###x201C;NAPOLEON III EMPEREUR&###x201D; appear at the edge along the name &###x201C;BARRE&###x201D; as a nod to the coin&###x2019;s designer. The Bare Head style was struck from 1852 to 1860, while the laureate edition was made from 1861 to 1870. Reverse When the portrait of Napoleon was modified in 1861, the coin&###x2019;s reverse underwent a redesign too. The 1852 to 1860 Bare Head version features a wreath with the country of origin (&###x201C;EMPIRE FRANCAIS&###x201D;) at the edge, along with the date and denomination in the center. The coin&###x2019;s mintmark is engraved at the bottom; A refers to the Paris Mint while BB is the mintmark of the Strasbourg facility. On the 1861 to 1870 edition, meanwhile, the wreath is replaced by the empire&###x2019;s coat of arms. About the Napoleon III 20 Franc Gold Coin The reign of Napoleon III was marked by turmoil, war, and controversy. One could argue that Napoleon III had the ambition and drive of his uncle (the famous Napoleon I), but lacked the same level of military and leadership skill. Nonetheless, the French ruler projected an image of power on this country&###x2019;s coinage. The 20 Franc proudly declared Napoleon III as the emperor. Even though France as a nation had its ups and downs in the mid-late 19th century, its 20 Franc gold pieces became one of the world&###x2019;s most popular coins. To this day, it remains a trusted and low-premium means of owning gold. At Provident, our primary goal is to make it simple and safe to invest in precious metals. We sell only genuine bullion products sourced directly from the mints that produce them, such as the US Mint, Royal Canadian Mint, Perth Mint, and more. In addition, our inventory holds a unique mix of products that you can only find at Provident. Additionally, our team is committed to offering exceptional customer service at every step of the investing process. You can rest easy knowing that you will get exactly what you ordered each and every time. All packages are fully insured during transit. Will I receive the exact item pictured? All photos are stock and are meant to represent the type and quality of item you will receive. What is spot price? Spot price is the market value of precious metals at a given point in time. How are prices calculated? Nearly all products in our store are priced at a premium or discount to the spot price. As spot price moves up and down throughout the day, so will the price of the product. How often are prices adjusted based on spot price? Similarly, our traders are NOT commissioned. What you see is what you get. Can I cancel my order? Cancellations are considered on a case-by-case basis. Is there a minimum order? There is no minimum order. Can I change my order once it has been placed? No changes can be made to the items included in an order once it has been placed, but a subsequent order can be placed. Yes, you can apply those monies at checkout. Will my order be insured? First off, we are sorry this happened. That said, it does happen, but we will make it right. We always do our best to do right by our customers. Not at this time. How long will my order take to get to me? View more great items. This listing is currently undergoing maintenance, we apologise for any inconvenience caused. The item "France 20 Francs Napoleon III Gold Coin Random Date Average Circulated" is in sale since Wednesday, June 6, 2018. This item is in the category "Coins & Paper Money\Bullion\Gold\Coins". The seller is "providentmetals" and is located in Addison, Texas. This item can be shipped to United States.
coin Diameter: 21mm
composition: .900 Fine Gold
mint: Foreign
year: Various
denomination: 20 Francs