kingdom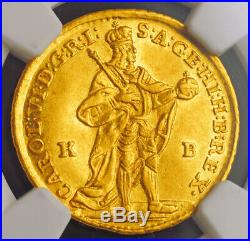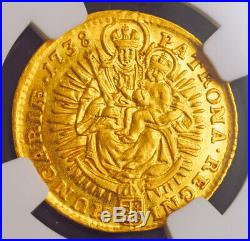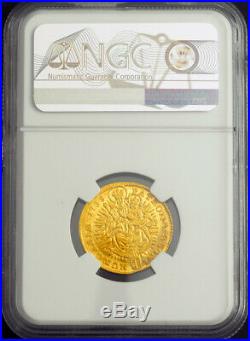 1738, Kingdom of Hungary, Charles VI. Mint Year: 1738 Denomination: Gold Ducat Mint Place: Kremnitz K. Reference: Friedberg 171, KM-306.2. Certified and graded by NGC as AU-58! Diameter: 23mm Weight: 3.46gm Material: Gold! Obverse: Standing crowned figure of Emperor Charles VI holding cross-topped orb and scepter right. D : G – R : I : S : A : G : E. Reverse: Madonna with child stepped on crescent and surrounded by ray of light. Crowned shield of Hungary below. (Kremnitz) mint was established in 1328 when Kremnica was promoted to a free royal town by the Hungarian King Charles Robert of Anjou. One of first coins made in this mint was called ducats. Kremnica ducats were well-known because of its good quality and considered the hardest currency in Central Europe. Available historical records report that 21.5 million ducats were minted in Kremnica mint throughout its history. The aggregate value of this amount, measured at today's prices of gold, would be one billion US dollars (exclusive of the historical value). (October 1, 1685 October 20, 1740) was Holy Roman Emperor, King of Bohemia as Karel II. And Hungary as Károly III. From 1711 to 1732. From 1703 to 1711 he was an active claimant to the throne of Spain as Charles III. Charles was born in Vienna, the second son of the Emperor Leopold I and of his third wife, Princess Eleonore-Magdalena of Palatine-Neuburg. He was given the baptismal names. Karl Franz Joseph Wenceslau Balthasar Johann Anton Ignatius. His tutor was Prince Anton Florian of Liechtenstein. Charles was the contracted heir of the Spanish Habsburgs. When Charles II of Spain made Philip V his heir, Louis XIV violated the contract. The dispute for the crown of Spain led to the War of the Spanish Succession. He succeeded immediately as King of Hungary and King of Bohemia. Later that year he was elected Holy Roman Emperor in Frankfurt. Although Charles seems to have been clumsy in political affairs, the Austrian monarchy reached its widest expansion during his reign. His superior army was defeated by Bosnians in year 1737 in Battle of Banja Luka. He married Elisabeth, eldest daughter of Louis Rudolph, Duke of Brunswick-Lüneburg. At the time of his death, his only surviving children were Maria Theresa and Maria Anna, so he had no living male heirs – a situation he had guarded against in the Pragmatic Sanction of 1713, which stated that his realm could not be divided and allowed that daughters also could inherit the throne from their fathers. When he died, the War of the Austrian Succession took place, but in the end the Pragmatic Sanction held up and his daughter succeeded him as Queen of Hungary and Bohemia and Archduchess of Austria. However, being a female, she was not elected Holy Roman Empress. Instead, Charles VII was elected. However, after Charles VII's reign, Maria Theresa's husband Francis III Stephen, Duke of Lorraine, was elected, ensuring that the Empire would continue in the Habsburg line. Probably as a consequence of his years in Spain, he introduced the Spanish court ceremonial. In Vienna and built the Spanish Riding School. ("chancellory of the state") and the National Library were constructed during his reign and the Michaeler tract added to the. Much was designed in baroque style in Vienna during Charles' reign. He also had musical ambitions. Taught as a boy by Johann Joseph Fux, he composed, played the harpsichord, and now and then conducted the court's band. There is some evidence that Charles' death was caused by consuming a meal of death cap mushrooms. The item "1738, Kingdom of Hungary, Charles VI. Gold Ducat Coin. Kremnitz mint! NGC AU-58″ is in sale since Monday, March 4, 2019. This item is in the category "Coins & Paper Money\Coins\ World\Gold". The seller is "coinworldtv" and is located in Europe. This item can be shipped worldwide.
Certification: NGC
Certification Number: 4788710-001
Grade: AU58
Composition: Gold!
Year: 1738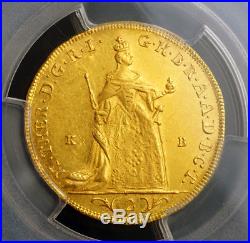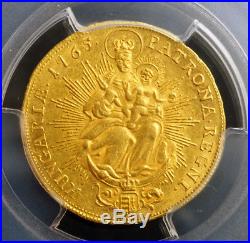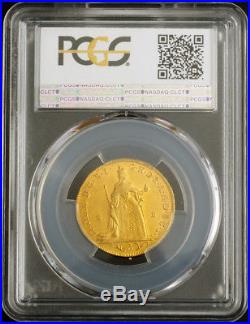 1765, Kingdom of Hungary, Maria Theresa. Gold 2 Ducats Coin. Mintage: 26,000 pcs! Mint Place: Kremnitz (K-B) Denomination: 2 Ducats (Double Ducat) Reference: Friedberg 179, KM-379. Certified and graded by PCGS as MS-61! 990 – 0.2222 oz. Diameter: 25mm Weight: 6.98gm. Obverse: Standing crowned figure of Maria Theresia right, holding Imperial orb and sceptre. Mint initials (K-B) in fields, value (2) in exergue. Exergue: c(2)c. Reverse: Nimbate crowned Madonna, seated in couds, holding nimbate Jesus child, stepping on crescent. Crowned Arms of the Kingdom of Hungary flanked by floral ornaments below. Legend: P[A]TRONA. See also names in other languages; May 13, 1717 November 29, 1780 was the Archduchess regnant of Austria, Queen regnant of Hungary, Croatia and Bohemia, and a Holy Roman Empress by marriage. Maria Theresa helped initiate financial and educational reforms, promoted commerce and the development of agriculture, and reorganized the army, all of which strengthened Austria's resources. Continued conflict with the Kingdom of Prussia led to the Seven Years' War and later to the War of the Bavarian Succession. She became dowager empress after the death of her husband Francis I, Holy Roman Emperor and accession of her son Joseph as emperor in 1765. Maria Theresa criticised many of Joseph's actions but agreed to the First Partition of Poland (1772). A key figure in the power politics of 18th century Europe, Maria Theresa brought unity to the Habsburg Monarchy and was considered one of its most capable rulers. Her 16 children also included Marie Antoinette, queen consort of France, and Leopold II, Holy Roman Emperor. The item "1765, Kingdom of Hungary, Maria Theresa. Gold 2 Ducats Coin. PCGS MS-61″ is in sale since Sunday, November 05, 2017. This item is in the category "Coins & Paper Money\Coins\ World\Gold". The seller is "coinworldtv" and is located in Europe. This item can be shipped worldwide.
Certification: PCGS
Certification Number: 34254997
Grade: MS61
Composition: Gold